Volunteering and Internships
online tutoring – children with OMJ (different mother tongue) once a week
YOUNG CHILDREN: Thursday art studio
COMMUNITY ACTIVITIES: trips, workshops, regular and one-off events
TUESDAY FOOD BANK ASSISTANCE (11 am – 1 pm) – packing packages, etc.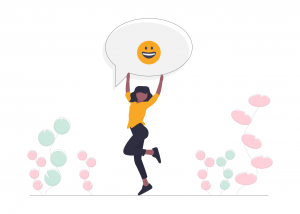 Cooperation with volunteers has a long tradition within InBáza, dating back to the very foundation of the organization, and is therefore an integral and necessary part in fulfilling its mission and goals.
We strive to provide all volunteers with suitable facilities and conditions and hope that their activities bring joy not only to the community center clients, but also to them.
The InBaze Volunteer Program is accredited by the Ministry of the Interior of the Czech Republic. With volunteers who are interested in working in InBaz for a long time, we conclude a cooperation agreement and insure them in case of injury or damage caused by the Hasičská mutual insurance company, as.
Volunteers in InBaz, z. S. Cooperate mainly on the following projects:
InBaze Community Center
Regular programs for children and young people (Atelier InBaze, ClubIn teenagers' meetings, visits to cultural events, one-day events for families with children in Prague and its surroundings)




Tutoring for children and adults (regular individual tutoring, usually one hour per week)




Multicultural women's groups "Circles" (participation in regular meetings of women's group, group for mothers with children or groups for seniors Babí léto)




Holiday celebrations (Advent, Carnival, Easter)



Outside Prague InBaze events
Residential events for children and youth (weekend stays, summer camps)



RefuFest in Prague
Multicultural open-air festival with wide application for volunteers
varied and interesting work, possibility to participate in InBaze programs, z.




the possibility of getting closer to the communities of foreigners who decided to live with their families in the Czech Republic




participation in cultural and educational events aimed at learning about other cultures




space for applying their knowledge and skills and for realizing their own ideas




helping the volunteer and social workers coordinator – to solve the problems associated with volunteering




training, team and individual supervision, insurance




references, confirmation of practice
Are you interested in becoming an InBase volunteer?
If you are interested in joining our programs as a volunteer or if you are interested in attending a professional internship or internship in our organization, please contact the volunteer coordinator Vilena Taraskina at taraskina@inbaze.cz.
FOR INTERESTS OR PRACTICE:
Completion of internship or practice is according to current organizational possibilities and capacities. Please contact us at least a month before its planned start.
For successful cooperation we need to know your motivation and expectations, the desired goal and content, the name of the school or university, the field of study and the year, dates and scope of practice. Please send the above information to the volunteer coordinator Vileně Taraskině at e-mail taraskina@inbaze.cz. In case of mutual satisfaction we will agree on further steps. 
If you have any questions, please contact us. We are looking forward to collaborate with you.