About community activities of InBáze
We organize seminars, debates and workshops on various topics. Do you need to understand better the functioning of authorities in the Czech Republic and your rights and obligations? Are you looking for opportunities for civic participation? Do you want to take a break from everyday worries and meet new friends from the ranks of migrants or find Czech friends? Choose from our varied range of activities.
Inbase activities are supported by:


Community center activities
Adaptive integration courses
Support for civic engagement MigAct
Would you like to actively participate in the development of civil society in Prague? Would you like to help out by volunteering, but don't know how? Or are you already active in your community, but the language barrier prevents you from letting others know about yourself? We are here for you!
MigAct is an initiative that connects active people with a migration background, organizations and civic initiatives that are not indifferent to the world around them and that want to participate in the development of local society.
More information about our activities you can find here.
Do you want to communicate in Czech and find new friends? Then the Small Talks Club is exactly for you! At least a moderately advanced knowledge of Czech is suitable. Our club is not just about conversation, we want to create a pleasant atmosphere and space to meet and share experiences. This way we will learn from each other and improve our Czech.
Register at: https://forms.gle/LZZ7T65HBEtZxrfc7
Contact: svejnohova@inbaze.cz
Meetings are informal and open to all topics. Participation is free, but a voluntary contribution is welcome.
We look forward to you!
Regular meetings - Multicultural groups circles
Do you want to take a break from everyday worries and meet new friends from the ranks of migrants or find Czech friends? Come and join us at the InBáze community center. Groups are open to everyone and you don't need to apply in advance. Knowledge of Czech is not required.
GROUP FOR PARENTS WITH YOUNG CHILDREN
At each meeting, we will have a program prepared for you – a creative workshop, singing, lectures or other activities. Once a month, you can look forward to creative workshops, visits to exhibitions, trips to see animals, etc.
We mainly speak Czech in the group, but you are also welcome with limited knowledge of the Czech language – we will be happy to help you practice it!
CENTRAL CLUB - WOMEN'S GROUP
Wednesday's women's group meetings are intended for women who want to make new contacts and improve their knowledge of Czech. They are an open and safe space for women of all cultures who are interested in meeting new faces, chatting, relaxing, sharing their joys and worries with us. The aim is to give these women a sense of acceptance and make it easier for them to establish social networks with each other.
We mainly communicate in Czech in the group. Thanks to this, migrant women practice the Czech language and we thus contribute to their easier integration.
The main mission of these meetings is to create social ties between Czech clients and women who come to the groups, to introduce Czech culture and mentality to them, and last but not least, to help in difficult situations by referring them to other InBáze activities or services.
Groups are evolving and changing, just as our society is evolving and changing. However, one thing remains, namely an open safe space for both newcomers and Czech women.
BABÍ LÉTO - CLUB FOR SENIORS
Babí léto is open to all women and men of mature age, regardless of country of origin or religion. The aim of the group is to create a pleasant atmosphere based on mutual trust, where it is possible to share memories of past years and events of everyday life. In addition, Babí léto is already famous for its love of culture, poetry and music. Come to see. You are welcome!
Why do migrants help migrants? Migration abroad is a bold and challenging step in everyone's life. Unfortunately, it is often associated with stress and a lengthy adaptation or integration process, and this often makes it difficult to enjoy new experiences. At InBáze, we try to understand everyone who comes to us, we try to support, advise and direct them…
We have more than half of our colleagues with migrant experience in the team, thanks to which we are able to pass on to our clients not only professional information, but we're also able to provide them with personal experience.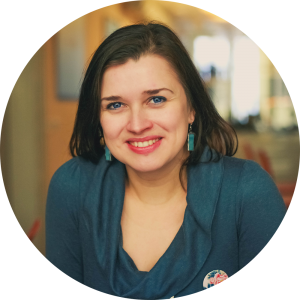 Iam a Head of Community Center and I come from Belarus.  
Anna's relationship with InBáze dates back to the very beginning of the Community Center for Migrants. That was in 2006, when she started working as an assistant and liaison worker for migrants. Since then, she has been in constant contact with InBázi, whether as an employee or active leader, a member of the association or a member of the supervisory board. She is currently preparing and coordinating not only the activities of the Center itself, but she is also the main organizer of the Refufest festival in InBáze.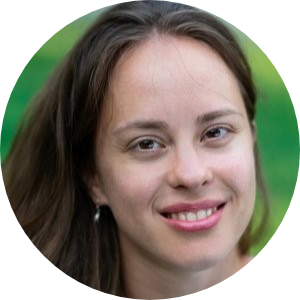 My name is Vilena and I come from Ekaterinburg. 
Vilena has been living in Prague for 9 years. Volunteering in the organizations Meta, o.p.s., and InBáze, z. s. played an important role in the integration process during her studies. She originally came to Meta, o.p.s. as a client – first as a participant in leisure activities for young people, and then in a theater group. Eventually, she founded the leisure club "Čekuj!" together with other volunteers, which introduces culture, traditions and the Czech environment in untraditional ways. Vilena is in charge of coordinating volunteers at InBáze.
P.S. You are most welcome to volunteer in the InBáze activities!
An up-to-date overview of the activities we need help with can be found in the section Volunteering.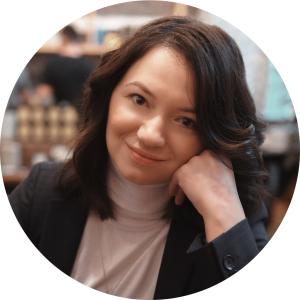 Icome from Ukraine and have lived here for more than 20 years.
Mariya is dedicated to somatic coaching and is currently in prestigious international certified coaching training. At InBáze, you can meet her in women's circles or during cooking together, which is also one of the activities of the Community Center. In her work, she uses her experience and knowledge, which she gained from coaching the clients during her studies and practice.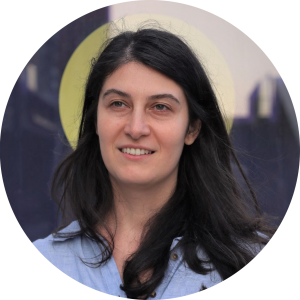 HI
I am a social worker at InBáze.
Kristina comes from Georgia and has been working in the non-profit sector for many years, thanks to the Intercultural Worker course organized by InBáze. Her job is to help foreigners from different countries living in Prague to communicate with authorities and institutions and to get a better orientation in the Czech environment. She also works for an organization that helps foreign women in Prague, and at the same time, she leads a small project of a Prague city district and is involved in the activities of the InBáze Community center.